Coronavirus Site Operations Procedures Update
Published Date: 26/03/2020
---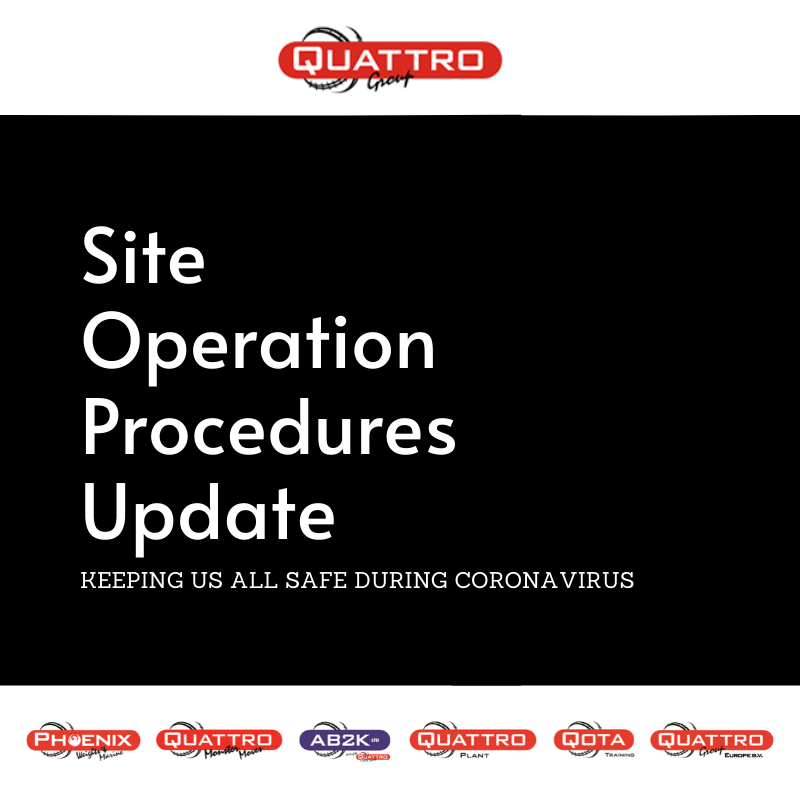 'As a nation we are all working through a scary and unprecedented time at the moment. Coronavirus is an unknown to us all, and there is a huge amount of changes to understand, and questions needing answering as we work through these challenging weeks ahead.
Here at the Quattro Group, we are working hard, along with our colleagues across the rail, road and construction industries, to be able to continue to provide a service to ensure that transport infrastructures across the UK are maintained, to allow for the safe movement of vital supplies and key workers. We are hugely proud of the dedication being shown by all of our team at this difficult time.
We have a responsibility not only to the nation's infrastructure, but to the hard-working men and women within our teams and the wider communities that they live and work within, to ensure that we are doing as much as we can to stop the spread of the coronavirus as we go about these vital works.
As such, we have implemented some immediate changes to our working practices, which have been adapted to ensure that everyone who is essential to the ongoing smooth running of the nation's infrastructure is safe, and that we can send them home to their families confident that they are not spreading this horrendous virus to those that they love. You can read more about the changes we have made below.
We will continue to keep a close eye on the situation as it develops and are working closely with Network Rail and government agencies to ensure that we are able to deliver the very best service in coming weeks. Whilst we will continue to deliver the essential maintenance that is needed, we will continue to ensure that the safety of our teams and of course the wider community is of the highest priority, and will stop at nothing to ensure that we are playing our part in stopping the spread of Coronavirus.
Stay safe everyone, and thank you for all your hard work.'
John Murphy, Managing Director, the Quattro Group
Changes to site operating procedures during the Coronavirus pandemic
The rail and construction sectors are used to working collaboratively. Many of the measures that we have introduced are reliant on us as industries working together to stop the spread of Coronavirus.
As close knit-teams, the very nature of the work we carry out at the Quattro Group is often reliant on working closely with colleagues. However, we are hopeful that by implementing these new measures, we can help slow and halt the spread of the virus, and keep our teams, and the wider community safe, whilst continuing to carry out essential works to keep the country moving.
Self-Isolation
Any team member that meets one of the following criteria should not present at site:
Has a high temperature or a new persistent cough - follow the guidance on self-isolation
Is a vulnerable person (by virtue of their age, underlying health condition, clinical condition or pregnancy)
Is living with someone in self-isolation or a vulnerable person.
Isolation procedure
If a team member develops a high temperature of persistent cough whilst at work they should:
Alert the site Health and Safety manager immediately
Return home
Follow government guidelines on self-isolation, along with family members, and not return to work until period of self-isolation has been completed
Travel to site
Where possible, team members should travel to site alone, using their own transport.
Avoid public transport wherever possible
Site management
Non-essential visitors to be refused access to site
Promote staggered start and finish times, to reduce congestion at entrance and exit points
Allow at least two meters (three large steps) between you and the next person waiting to enter or leave the site
Regularly clean common contact surfaces in receptions, access control and delivery areas – such as scanners, screens, telephone handsets and desks
Re-consider the way site inductions are managed – minimise the amount of people present, possibly hold multiple inductions with fewer people
Drivers to remain in vehicles if the load allows it
Hand washing
Soap and water should be made available, and where this is not possible, hand sanitiser should be used
Hand washing facilities should be cleaned regularly, and kept topped up
Suitable bins should be provided to allow for the hygienic disposal of used hand towels
All team members to thoroughly wash hands upon entry and exit of site.
Drivers to wash or sanitise their hands before and after unloading goods or materials
Hand cleaning facilities should be available in break zones
Canteens and break zones
Dedicated areas for eating and breaks should be clearly marked, and cleaned regularly
Break times should be staggered to reduce congestion and contact
Team members should be asked to bring pre-prepared meals and refillable drinking bottles from home
Team members should sit two metres apart from each other whilst eating and avoid all contact
Provision of a track-based welfare unit, providing washing and welfare facilities, which can accommodate seven staff safely
Plant and PPE
Re-usable PPE should be thoroughly cleaned after use and not shared between workers
Single use PPE should be disposed of so that it cannot be reused
Spare gloves, MP3 face masks and eye protection available
Deep clean of all On Track Plant
Wipes for operators to sanitise the On Track Plant prior to change over shifts present on all sites
Full clean and sterilisation of DECT COMM, with additional wipes available on site for further cleaning, individual sets provided
Crane/Machine Controllers to only ride in cab if absolutely necessary. All POS planning to include the minimisation of any in-cab travelling.
Whilst operating MEWPS with more than one team member in the basket, additional PPE (facemask and latex gloves) must be worn