New vehicles add lift to crane division
Published Date: 05/12/2019
---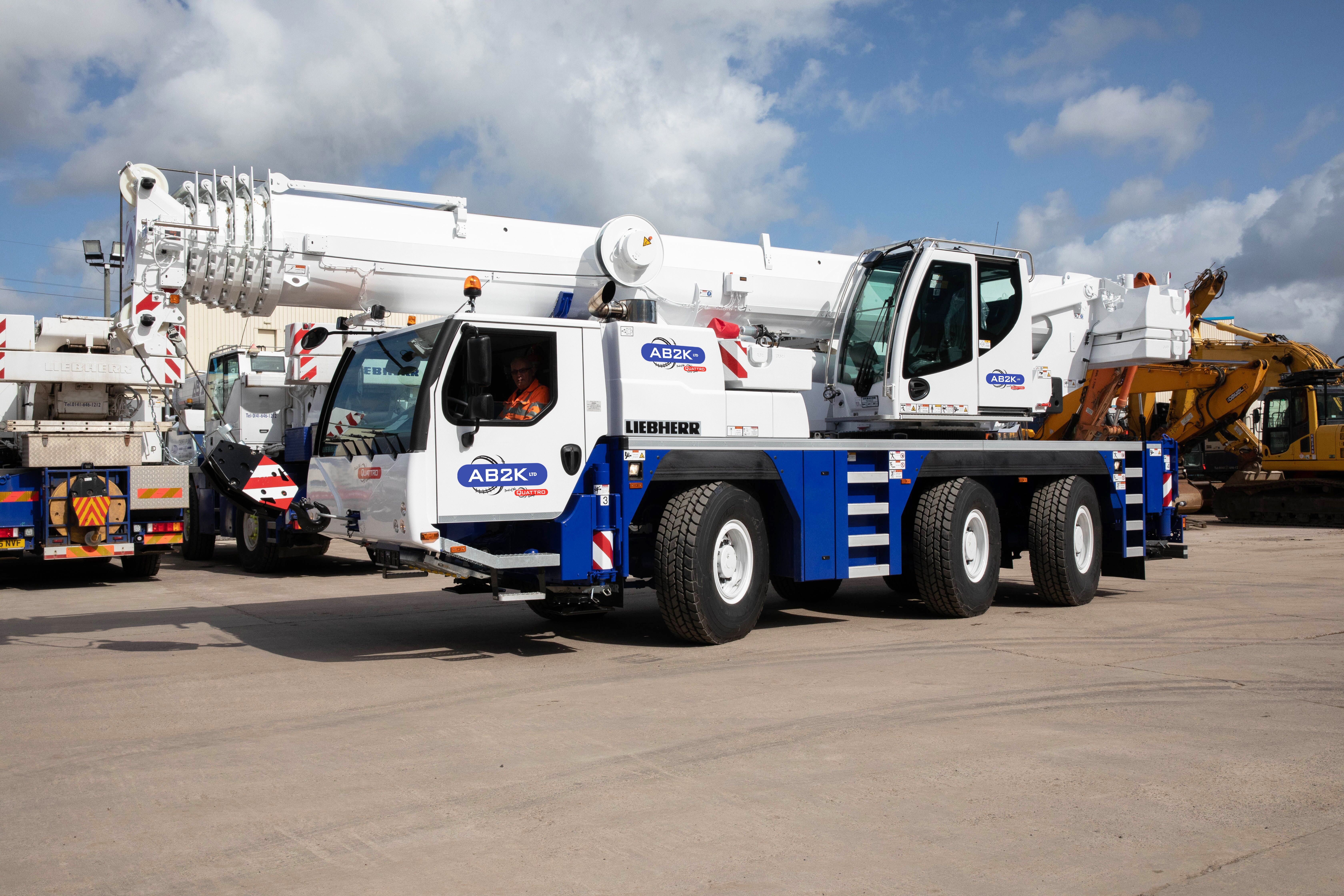 AB2K is delighted to have taken delivery of two new Liebherr telescopic mobile cranes.
The new vehicles are exciting new additions to the organisation's existing crane hire division. Supplied by the Liebherr-Great Britain, the vehicles - an LTM 1060-3.1 and an LTM 1040-2.1 - will be based in the AB2K Glasgow head office, serving customers across Scotland and the North of England.
Working closely with the team at Liebherr, the lifting specialists at AB2K identified the perfect vehicles to suit the varying requirements of their wide customer base. With a five-section boom length of 48m and 16m bi-fold swingaway extension, giving a top height of 67m, the LTM 1060-3.1 offers a solution for clients with high expectations! The LTM 1040-2.1, boasts a 35m main boom, which can handle 7.4T on a fully extended boom and just over 1T on a maximum radius of 31m.
AB2K, and the entire Quattro Group, prioritises safety, reliability and efficiency as cornerstones of all business. The new vehicles not only meet customer requirements, but also tick all of these boxes, with cutting-edge Liebherr technology putting them at the very top of their game.
The LTM 1060-3.1 features an advance ballast plate configuration, which helps it make short work of a wide variety of driving conditions. Combined with the latest chassis technology and compact footprint, this crane can take on any specification of site with ease.
Quattro Group Managing Director John Murphy commented:
'We are delighted to have taken delivery of the two new cranes. The vehicles are great new additions to our already comprehensive fleet and we are sure that they will provide an exciting 'lift' to the significant crane division within AB2K.'
'As a group, we are continually looking to deliver the very best equipment to suit the ever-growing needs of our customers. With this in mind we have worked closely with the team at Liebherr to make sure that the vehicles meet the specifications that our clients require, and are confident that they will continue to raise the standard of crane hire in Scotland.'