'Buy Girls Tractors Instead of Dolls'
Published Date: 08/03/2022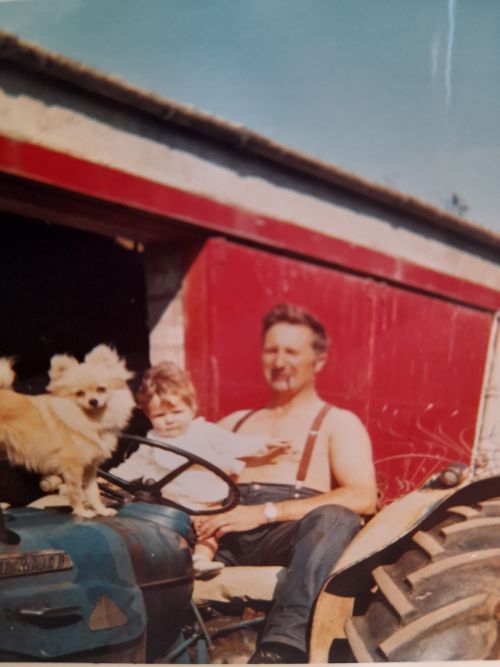 ---
IWD 2022: Breaking the bias with Arlene Harrison
Plant Manager Arlene Harrison grew up on a farm in Blackburn, Aberdeenshire with three older brothers and one sister. Immersed in the outdoor life of all Scottish weathers, adventurous Arlene loved chasing her brothers around the fields and getting behind the wheel of tractors and diggers. Arlene was so fascinated by how the farm vehicles worked that she was able to drive and operate both of her father's machines by the time she was twelve years old.
'There were no stereotypes', she says, 'My dad encouraged me. I could barely see over the steering wheel! He put a cushion on the drivers seat and taught me to drive, just like my brothers. It comes as no surprise to my mum and dad that I have ended up doing what I do.'
Following her passion, Arlene went on to master a BSc in Electrical and Electronic Engineering at Robert Gordon University and continued with a Postgrad in Information Systems a few years later. She forged ahead with a successful career in her chosen field and now works at AB2K (Quattro Group) running the Ellon depot with a staff of twenty.
'At Uni there were only four girls in the class and the rest were boys. To me it was the norm, I was not intimidated; it was kind of what I was used to.'
When Arlene started in plant hire she took to the workshop to get a more hands-on knowledge of the intricate workings of core plant machinery. Guided by a fitter, she got her hands dirty learning the basics of excavators as well as trips on site to see the ops at work.
'All the operators in the early days had me working on site helping out with contract work, driving dumpers, rollers, laying pipes and working the wacker plate. I was never any good at the excavator work, although I have tried but would definitely leave that to the professionals and I'm sure a few would agree with that! I really do admire the skills that the ops have.'
On reflection, Arlene feels her drive to learn the more hands-on side of construction was over and above what was needed to do the job she started in, and that she may have been compensating for her gender.
'I felt I had to work harder than the guys to earn respect. A man's word is taken as read. A woman has to prove her worth. These days it's to a much lesser degree but occasionally I can still feel it linger when I'm dealing with men who are just not comfortable with a woman in this position. They will hesitate, and I can tell what they are thinking, this needs to be checked by a guy.'
Nevertheless, Arlene states that roles within the plant hire business have seen enormous change and men and women are now working together with mutual respect and professionalism. In terms of breaking the bias, Arlene says that parents have an opportunity to help from an early age with a key insight around unconscious gender stereotyping:
'I grew up around engines and diggers and machinery, but the truth is that young girls are simply not guided that way. They are given dolls and prams and make up and beauty. A simple change like buying girls tractors to play with, as well as or instead of dolls, can help girls become familiar with what would have been traditional 'masculine' pursuits, and in later life feel much more empowered to assume that career. I do think this mentality has to be instilled at an early age that women are just a capable as men at doing most jobs that have previously been dominated by men and vice versa.'
Arlene feels that a masculine/feminine 'divide' in construction is outdated, and that a wealth of opportunity exists for anyone, not just men: 'I would recommend any woman thinking of a career change or apprenticeship to have a look. Many big companies are now actively recruiting females in order to end the stigma associated with this field.'
Furthermore, she feels that more progressive attitudes in gender equality are helping to push the bias out of the equation: 'It is now a generational issue, and thankfully new generations bring new perspective. I would love to welcome many more female operators, fitters and drivers to join our team.'
Quattro/AB2K is actively seeking female applicants. We would like to welcome you to visit our sites and chat with a depot manager, or call 0845 900 2999 and ask to speak to Human Resources.
#IWD #IWD22 #breakthebias #femalesinconstruction #construction #planthire