AB2Kween Arlene Harrison Turns Fifty
Published Date: 06/07/2021
---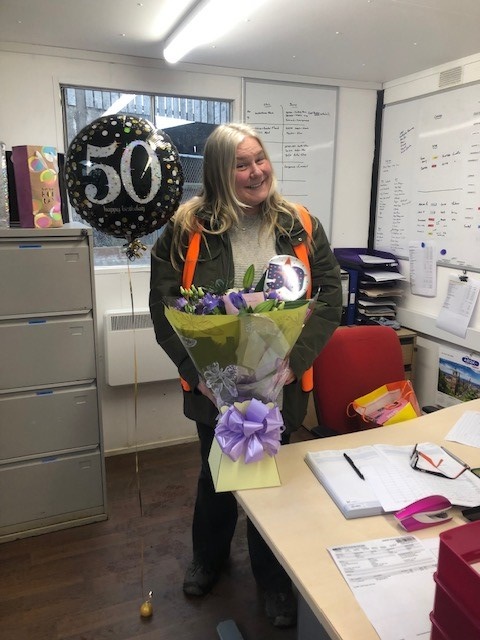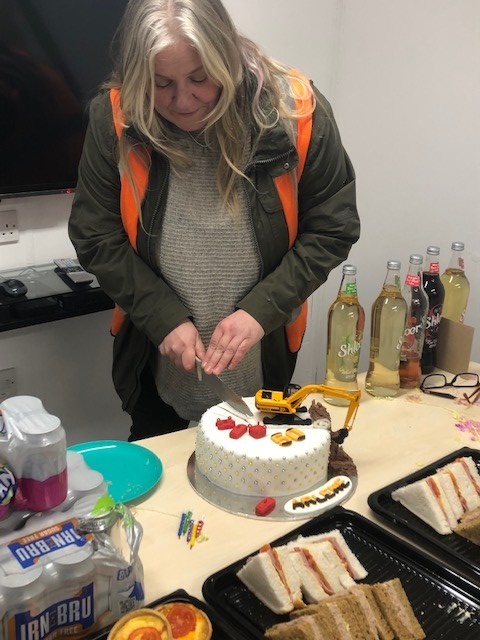 'Some of them call me 'Mam'.
We caught up with Ellon Plant Manager Arlene Harrison who turned fifty on Sunday.
What's your job at AB2K?
Ensuring machine maintenance, bringing sales in, keeping customers and operators happy, allocating where the operators go… Skivvy, cook and bottle washer!
How long have you worked at AB2K?
12 years, prior to take over. Then things really got better!
How does it feel to be fifty?
The parties are good! There was a party every day until Sunday, then I allowed myself to recover before going back to work on Monday. Let's just say I got more birthday cards than Christmas cards… I don't feel like I'm fifty, and I don't act like it, and neither do my friends who dressed up as rappers this year!
The Ellon depot threw you a party – did you know about it?
No! I was so surprised! I can see the stairs from my desk but I didn't see them taking buffet and cake up and down. I came into work see a huge banner on the main road! My office was full of balloons, at least a hundred, I could hardly get to my desk.
Do the ops have any nicknames for you?
Not that they've told me… but some of them call me 'Mam'.
Is that because you're a bit royal or scary?
Some people think I'm scary but I'm really not – they are all very well aware that there's a line.
What advice would you give to a woman that's considering a career in Plant Hire?
It's really great. I honestly don't feel there's a male-female divide in the company. We're all in this together. If there is any benefit to being a woman, it's that you get away with saying things more than a guy might. A guy might get a punch in the nose for some of the things I've said!
What's the best thing about working at AB2K?
The best thing about working here is the banter. There's never a dull moment, ever. I love my job. All of the operators and fitters and managers are great, except that William Pew. And of course, I've got the best MD in the world!
Do you want us to put that bit about William Pew?
Yes.
John Murphy, MD of Quattro:
'A very happy birthday to AB2Kween Arlene. She's an asset to the company. I hope she's saved a slice of that cake for the best MD in the world!'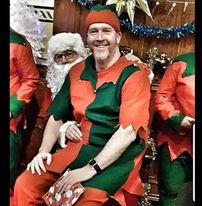 A recent photo of AB2K's William Pew, moonlighting as an elf. (She loves him really... and so does Santa).