The Quattro Apprentice Episode 2
Published Date: 02/08/2021
---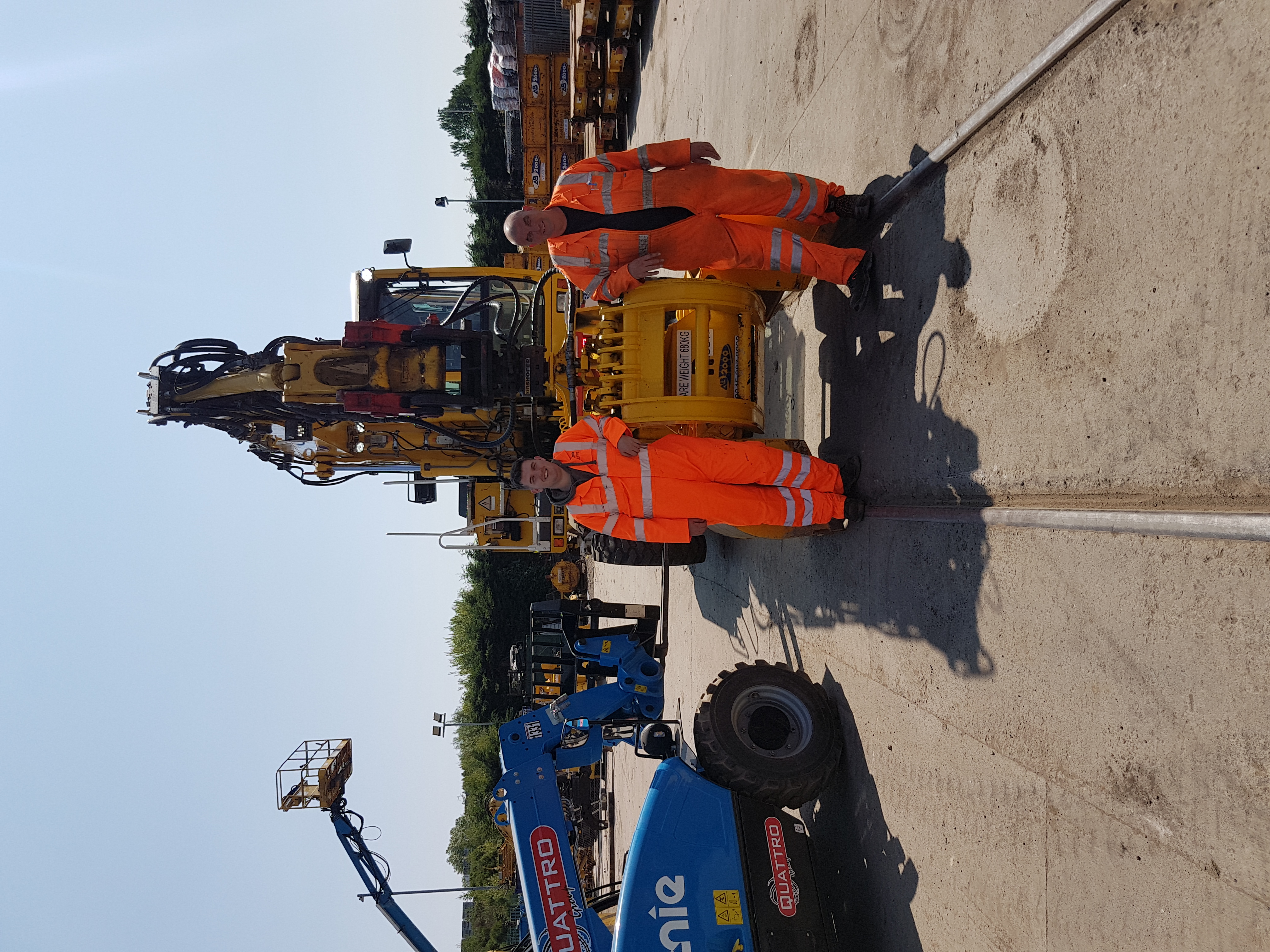 YOU'RE HIRED!
Quattro celebrates the graduation of apprentice rail plant fitters, Jamie Powles, 21 and Daniel Molloy, 22.
Daniel Molloy - Cambuslang
Daniel Molloy left St Andrews High School in Coatbridge with three Highers. Despite having the grades he never wanted to go to University. Daniel landed on his feet in a well-known sports shop for two years as a sales assistant, however he found working with the general public and their requests for multiple trainers in multiple colours and multiple sizes 'challenging'. After a barrage of customer trainer-rage on Christmas Eve Daniel looked to his dad, Tommy Molloy, a long term Quattro employee, for advice.
'The sports shop would open at 9am and there would be a queue. You quickly find out when working with the public that some of them are horrible! One person came in on Christmas Eve and shouted at me so I spent my second year in the stockroom which was much better, but I got sick of it. I realised then I needed to do something different. Engineering always interested me but wasn't sure about it. I promised my Mum I wouldn't work on the railway because my Dad worked nights. I didn't realise what a good career path it could be after chatting to him. He said there was a job going as an Apprentice Rail Fitter. I went for it and got it.
A determined Daniel attended Stafford College, thirty miles north of Birmingham on block release which meant he was down for two or three weeks at a time studying theory then back up to do six weeks at Quattro. He found the juggle of paperwork and on-the-job learning a balancing act that eventually fell into line:
College was a heavy workload but I was learning loads: Hydraulics, electrics, engine work, how to make different things, how to drill. The first year I didn't like it because it was really hard. On top of the heavy workload, hardest thing was to study and handle the practical and try to balance everything with time. Then the 2nd and 3rd year I loved it as I enjoyed the variety. I would go down and have a laugh with the people in my class then come back up with more knowledge to add to the job.
Daniel's Forman, Phil Park recalls Daniel's journey from a shy NVQ applicant to the competent rail fitter he is today:
I do remember him starting as a very naïve young man with this wild curly hair! Straight away he took the bull by the horns and achieved what he set out to do. I had him in the Cambuslang yard a few months of last year and we did a lot of inspections and routine maintenance to ensure he knew what he was looking for, especially on wheel sets, which is very important on the rail. Everything needs to be where it should be. These days Daniel is outgoing and funny, right out of his shell, part of the team. He's hard working and always lets me know if he has a problem. I can see such a huge improvement in him from the start to the end of the NVQ. He has really matured and proves it by knuckling down every day.
Now working as a fully qualified Rail Fitter at Quattro in Cambuslang, Daniel is happy he pushed himself to achieve the Level 3 NVQ in Construction Maintenance.
I love the fact I'm not tied down to one place and not having to work in the same space every day. I get a constant change of scenery with Quattro. I love the driving around Scotland to different jobs – in particular getting to see Aberdeen and Arbroath. I'm even managing to get a 'Scottish tan' while I work in this 26 degree heat! I love working on the MEWPs and the Liebherrs are the best road railers.
Foreman Phil Park sees a great future for Daniel:
Daniel is coming on leaps and bounds. A few more years on the Quattro plant fitting side he will be an extremely competent and experienced fitter. He's already out and working on a lot of jobs in his small van. Daniel has got his toolbox in the back and he's always ready to go.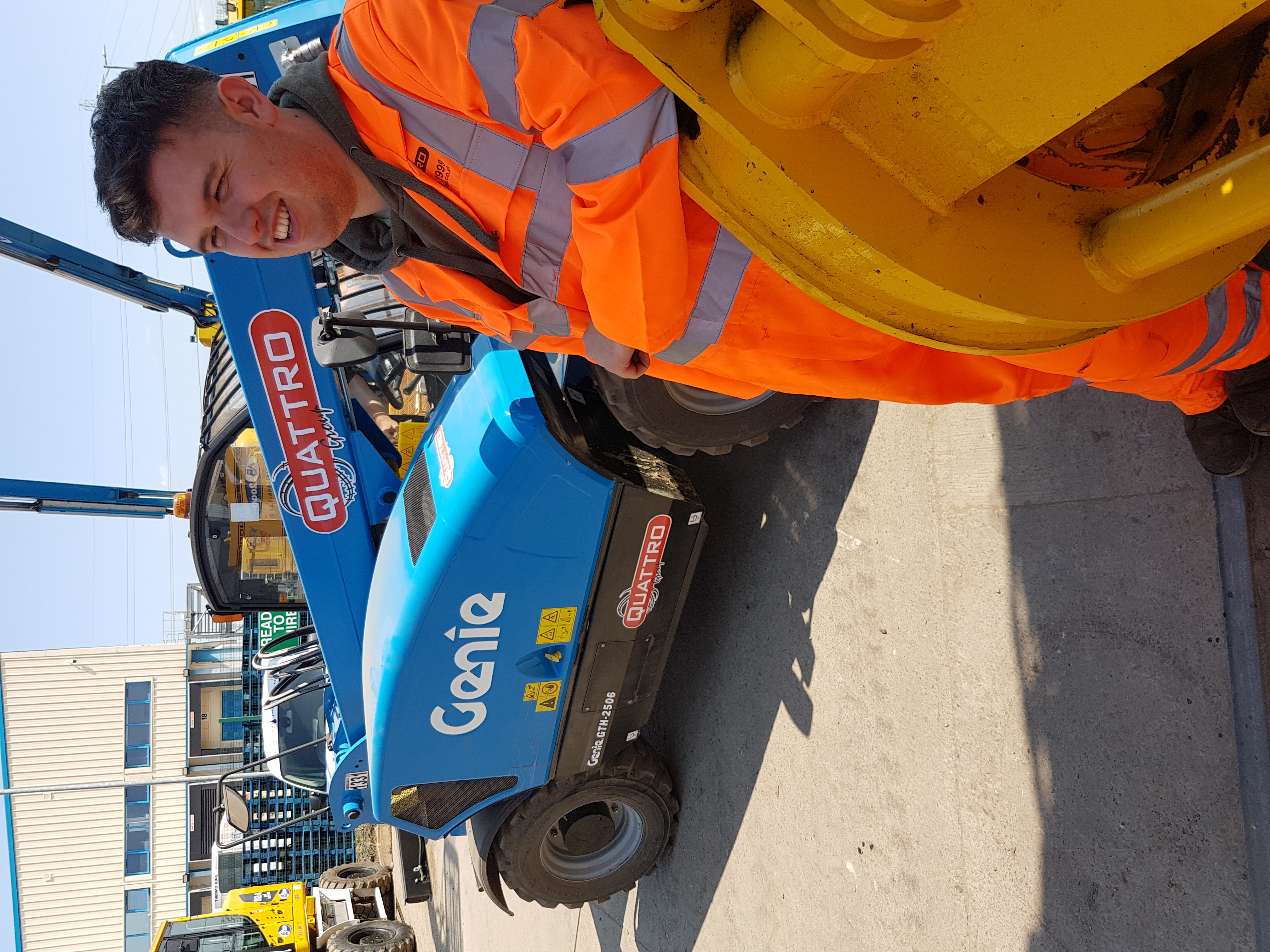 Qualified Plant Fitter Daniel Molloy favourites:
Music: Eminem
Pizza Topping: Chicken Peperoni Ham extra cheese
Crisp flavour: Anything spicy
Drink: Dr Pepper or Guinness
Dinner: Chinese takeaway
Friday night: Go to the pub then into Glasgow for a night at Cushion
TV: Top Gear and Grand Tour
Dream Car: Audi RS 6, red
Quattro's newest qualified plant fitter celebrated his result with a trip to Edinburgh with girlfriend Gemma where they enjoyed dinner and a visit to some cocktail bars. Asked how his mum feels about his career choice now, Daniel added: My mum is really proud of me for sticking it out. Not a lot of people can deal with it, and I did.
John Murphy, Quattro MD
Daniel I am very happy that you hung up the trainers and swapped them for a set of spanners. Well done on achieving your NVQ Level 3. It sounds like you did a lot of work to get here with a good bit of family support behind you. Quattro is lucky to have such a dedicated and qualified plant fitter in Cambuslang.