AB2k Adds Liebherr LTM1060 to Road Crane Fleet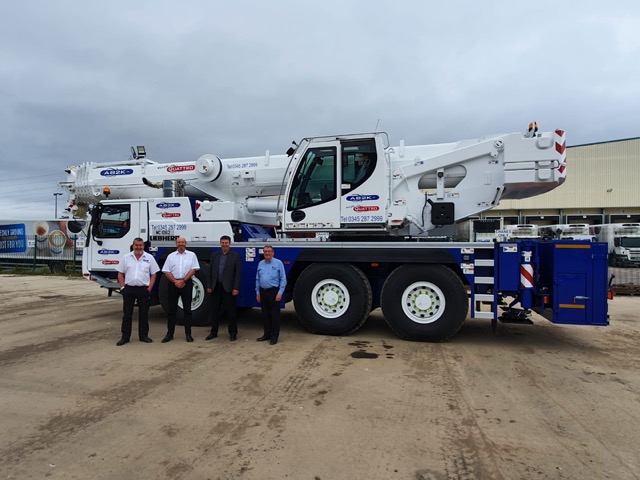 L to R, John Murphy, AB2K, Brian & Richard, Liebherr Sales, Bill Marsh, AB2K
Published Date: 11/06/2021
---
In Cambuslang there was much anticipation amongst the cranespotters today as Brian and Richard from Liebherr Sales dropped off a new addition to the road fleet – the impressive LTM1060.
With a maximum load capacity of sixty tons and a telescopic boom of 48 metres, this powerful crane sets the standard for the latest in Liebherr technology, versatility and safety, as well as reduced carbon footprint.
Further features of the crane include a new cabin design, a wide range of driving configurations and the award-winning VarioBase® support system, an optional extra to enhance safety. The incredible sixty-ton crane can also operate in ECOMode and ECODrive settings which cut fuel consumption by 10%, which facilitates AB2K's overall drive to reduce emissions.
'We are proud to add another Liebherr to our depot',
says AB2K Road Crane Hire Manager, Ian Campbell.
'The new LTM1060 sets the standard for ergonomics and safety, and takes the AB2K fleet total to fourteen cranes, one of the largest in Scotland.'
Managing Director, John Murphy added,
'This is the most advanced crane in our fleet. We want to offer the AB2K customer the Rolls Royce of cranes… and that can only be a lift from a Liebherr!'
During the month of June 2021 AB2K are offering all new customers 10% off full contract crane lifts.
Call 0345 287 2999 for customer service.