New AB2k Liebherr LTM 1110-5.1 'Climate' Crane is one of the first on the road
Published Date: 13/10/2021
---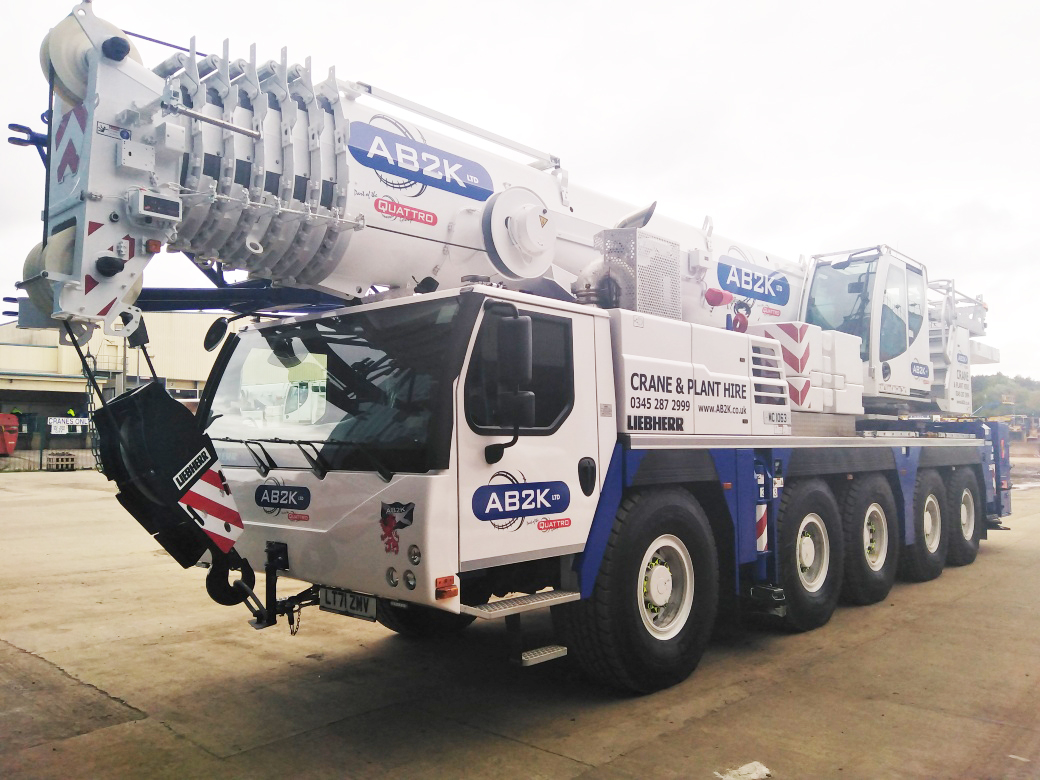 This month AB2K took delivery of a brand new Liebherr LTM 1110-5.1, the latest and greatest state of the art 5-axle crane, now ready to take out on jobs across Scotland.
Showcased at Vertikal Days a few weeks ago, this new crane can lift up to 110T and carries all of its counter weights. This much talked about new design has an impressive green fuel saving with the lowest C02 emissions of any crane on the road.
With excellent lifting capacity and a boom that extends to 60 metres + 19 metres fly jib, this 5-axle crane has a wide range of different driving styles, ensuring significant benefits for traversing on any terrain. The combination of a trapezoidal support and Liebherr's multi-award-winning VarioBase® takes it to the limit as one of the most advanced cranes in the world.
Ian Campbell, Crane Hire Manager, AB2K
'This lightweight, long and powerful crane is prepared for any task. It's simply incredible: self-contained, carries its own counter weights and can lift up to 110T. We're thrilled to have one of the first on the road in Scotland, ready for hire straight away. We can't wait to put it into action.'
John Murphy, MD, AB2K (Quattro Group)
'This is a major advancement for AB2K's fleet of twelve cranes, in line with stringent Euro VI c standards. We are proud to say that the Quattro Group is pulling out all the stops to reach our commitment to reduce our emissions in line with climate science and the Science Based Targets Initiative (SBTi). The crane division, amongst other sectors in AB2K, is taking bold action and gaining pace in climate leadership.'
To hire, contact Ian Campbell Ian.Campbell@ab2000.co.uk or call direct 0141 646 1212.