Mental Health Awareness Week - May 10th to 16th
Published Date: 11/05/2021
---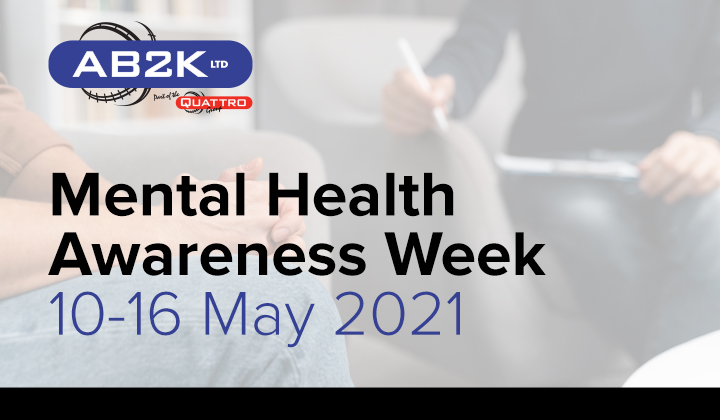 A few words from Melanie Webb, HR Manager, Quattro/AB2K
Good morning
As some of you may be aware, May 10th to 16th is Mental Health Awareness Week. The theme for this year is how nature and the environment can support our mental health. Let's be honest, with the year we've experienced and the restrictions we've faced we've probably all become a little more familiar with our outdoor spaces as there's been little else to do! According to the Mental Health Foundation, 45% of us found that walking outside has been one of the top coping strategies during the pandemic.
So with the better weather coming (hopefully!), why not take the opportunity to try something new in the open air?
Meet friends to eat out and enjoy a catch up
Go to a new park or open space for a walk and explore the surroundings
Exercise outside – try open water swimming, jogging, hiking, riding a bike or yoga as an example
Be creative – do you like painting, drawing or photography?
If you have children take them to the park, kick a ball around or play tennis
If none of those are your thing, then just bring the outside into your home with some flowers from the garden.
Challenge yourself next week and do something different, if you can make that a long term change all the better.
On a final note, always think about what you do and how you do it and the impact your words and/or actions have on others.
If you need any support with our mental health please contact your mental health first aiders and look out for more emails coming about additional help with can offer working with able futures.
Have a lovely week,
Mel